Discover the future of functional fitness today!
---
From heart-pounding outdoor workouts to state-of-the-art gym solutions, Element Fitness is here to elevate your functional fitness experience.

Let's redefine outdoor fitness together at FSB 2023!
---
Our team is eager to meet you and explore potential partnerships, so don't hesitate to schedule a meet-up or visit our booth.
Why you can't miss this?
At our booth, you can discover the latest in outdoor fitness equipment designed for all fitness levels;
witness the versatility of our new outdoor gym machines with adjustable weights;
connect with the minds behind the innovation; and discuss how we can elevate your fitness offerings.
Please do not hesitate to Contact Us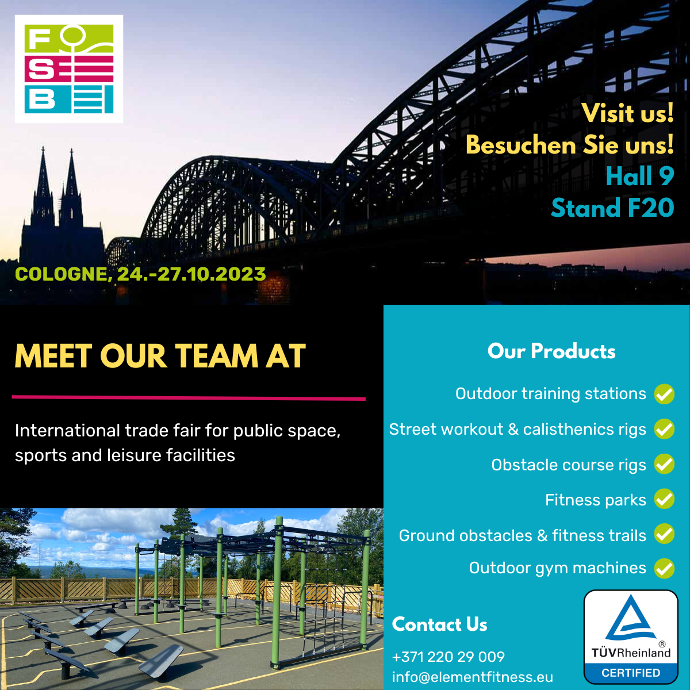 ​
Illuminate your fitness goals with LED Rigs
---
We are thrilled to showcase Element Fitness' LED training rigs, an innovative and unique addition to the fitness equipment industry. Our LED rigs are designed to elevate your training experience with their dynamic lighting features, creating an engaging and motivating atmosphere.
View details

New fitness adventure in Daugavpils City
---
The installation of 5 outdoor gym machine prototypes in the breathtaking resort area of Stropu Lake has ended. These prototypes have found a perfect home amidst our existing training stations and OCR rigs, creating a holistic fitness haven for all to enjoy. Every citizen and visitor of our beloved Daugavpils City now has a golden opportunity to test these innovative devices and share their valuable feedback through our online survey.
For more info visit Outdoor Gym Machines page!


LV
Jauns fitnesa piedzīvojums Daugavpils pilsētā
Jūlija beigās uzņēmums "Element Fitness" Lielā Stropu ezera Centrālajā pludmalē uzstādīja 5 jaunus, inovatīvus āra trenažierus. Daugavpils iedzīvotājiem vasaras sezonā ir iespēja izmēģināt šos trenažierus un sniegt savas atsauksmes, piedaloties aptaujā.
Lasīt pilnu rakstu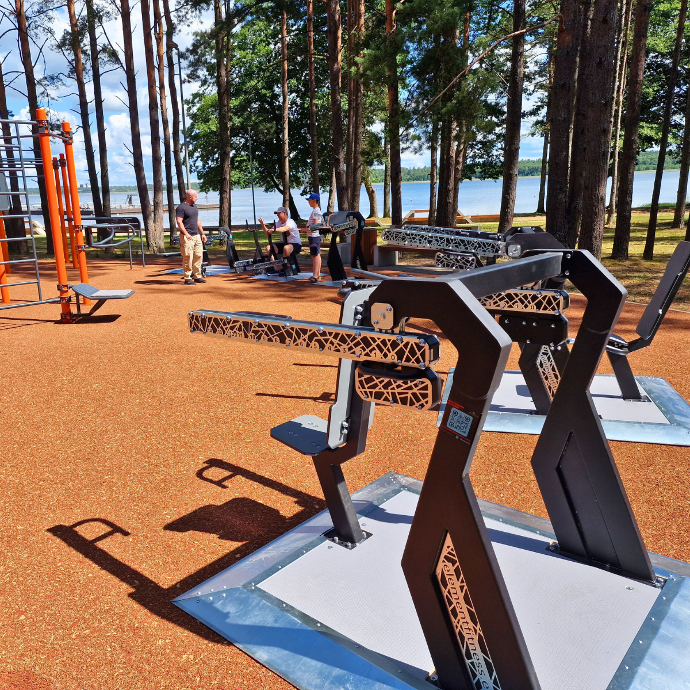 ​
JUST HAVE A LOOK AT SOME OF OUR LATEST PROJECTS
Discover why so many gyms and municipalities rely on Element Fitness's innovative training solutions
Contact us and get a free visualization for your project within one business day