MY FITNESS
---
MyFitness is a brand that needs no introduction to the fitness industry of the Baltic States. Since the creation of MyFitness in Estonia in 2008, and having opened more than ten clubs already in the first years of operation, the company continued to expand and came to the Latvian market in 2014. At the moment, MyFitness has more than 20 clubs in Latvia and is the largest network of gyms there.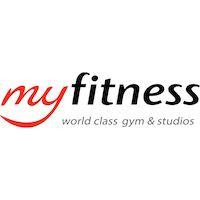 In 2017, My Fitness opened the first free gym in Europe located in the passenger area of Tallinn Airport, which attracted a lot of attention to the company and served to strengthen the brand in the Baltic market. To emphasize the modern look of the company and further strengthen the image of MyFitness, we have created individual brand stations and solutions that reflect the colors and themes that are present in the company's broader branding.
Functional stations can be difficult for those who have not used them before, and the wide range of exercises that you can do with attachments is endless. Nonetheless, it presents an ideal contact point for trainers and hall customers.
With a strong coaching staff and the latest equipment, MyFitness can satisfy its customers with a variety of intense training that attracts new customers who are willing to achieve their fitness goals.